Club News
President, Jim, called the meeting to order with 28-30 club members present.

The Eagle Head canes were presented, at the Veterans Hospital, on June 29th. Where 50 canes were given out. Members from our club and from the Wood Turners club were in attendance. Per president, Jim, "It went very well." Thanks to all who gave of their time and sanity in this endeavor.

Remember, the Big Fresno Fair is coming in October. All carvers are encouraged to provide items for the case. We're looking for all skill levels; beginning to advanced. Bert Frazier reinforced this and noted that newer (younger) carvers need to step up to the plate so as to assure that carvings are available into the future. ~ALSO~ There is a need for members to be at the club booth during the Fair. Signups will likely begin in September. Please consider representing us.

Clarence Mattos has/had Hollyhock seeds available for anyone interested. No charge. By the time you read this, they're likely gone!



back to top
---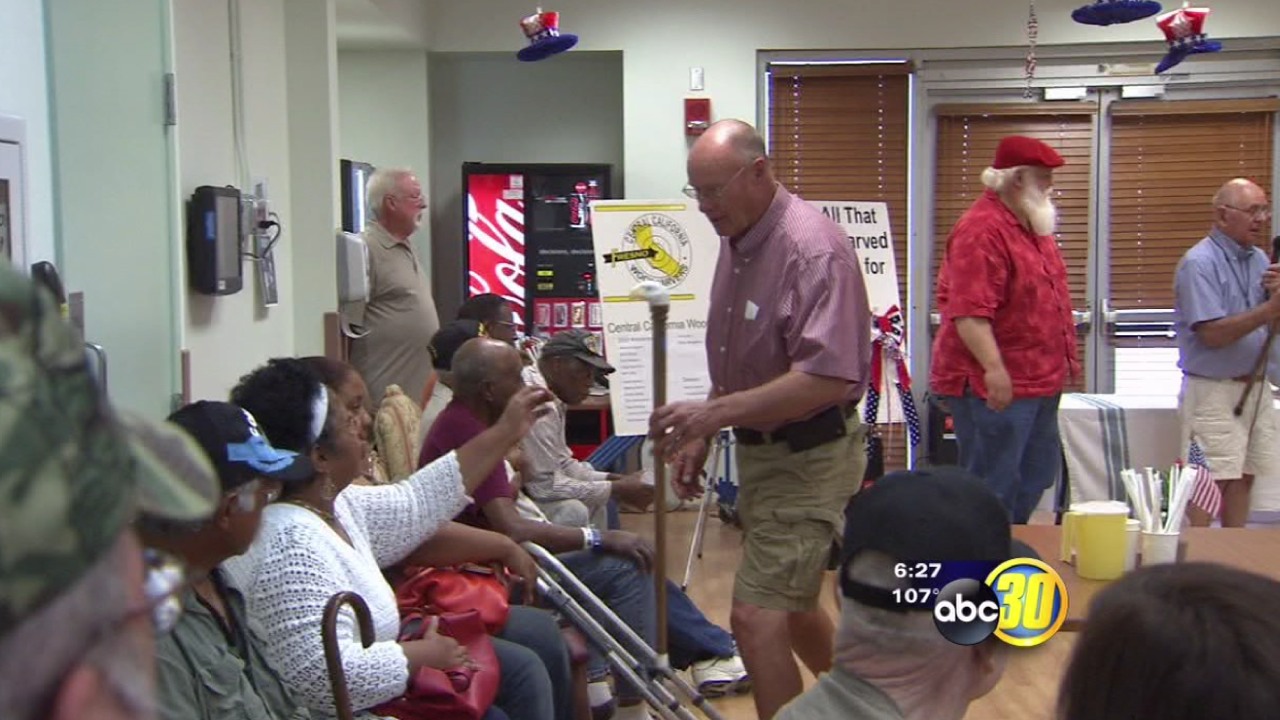 Channel 30 covered our "Freedom Cane" presentation this year. For a brief video of the event check out their page.
The Channel 30 story:
http://abclocal.go.com/kfsn/video?id=9156301
Or if that doesn't work for you, here it is on Yahoo! News:
http://news.yahoo.com/video/veterans-honored-handmade-eagle-head-042938892.html



back to top
---
Five members brought in something to share with us during Show and Tell at the July 6th meeting.

1.) A squirrel, by Lance Leitch. A 'Red Squirrel' painted grey with acrylic paints. Nice! (But was it really a six year project, Lance?)

2.) Ron Harbour brought in a carving, rendered in 2004, by his cousin, Ellis A. Olson. It depicts a folksy couple, perhaps Appalachian; she with a rolling pin, he with no excuse. A fun caricature.

3.) Lola Nelson created a bass wood Caribou on Oak base. Beautiful antlers. Used plastic (milk container) for the grass. Very creative.

4.) An Inlayed Octagonal Box was made by Richard Nelson. An eight pointed star design with felt. Richard was seeking a three dimensional effect. Looks like he got it.

5.) A howling wolf was fashioned by Tom Summerville and mounted on walnut. Realistic indeed. Tom also carved a nude figurine from bass wood. "Elvira". The model remains unknown and Tom's not telling.

---